Brand Site
---
Location
---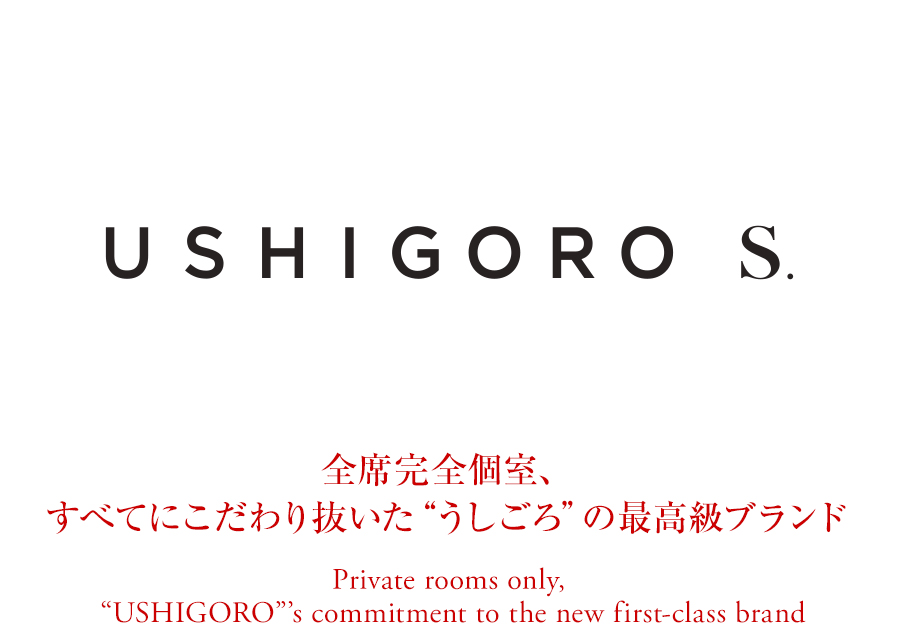 ---
Concept
Our skilled grill staff cook exclusive prime beef from Tamura farm and "Omi Beef" from Okazaki farm right before your eyes in one of our chic private rooms.
We're confident in the quality of the beef and used in our primary courses, as well as exclusive alcohol from around the world.
---
【 Tottori / Tamura Farm 】
Tamura farm is known for stubbornly maintaining a pedigree of "Tajima cattle" which is the origin of black wagyu.
The farm breeds top grade black wagyu and incorporates a long term fattening system to ensure quality.
---
【 Shiga / Okazaki Farm 】
Okazaki farm has a history of six generations as a breeder for thoroughbred Tajima cattle.
Their passion for "Wagyu" and commitment to taste has received the highest evaluation among "Omi beef" which is the top three wagyu in Japan.
---
USHIGORO S.
-Select/Special/Stylish/Smart/Spirit-
Selected and Special food/Stylish space/Smart service/Spirit
Named as a letter S after our passion
---
Summary
Store name
Address
Opening of a store
"USHIGORO S. Nishiazabu"
Barbizon73 B1F, 2-24-14, Nishi-Azabu, Minato-ku, Tokyo 106-0031 Japan
Tel. +81-3-6419-4129 Fax. +81-3-5774-2911
June, 2017
"USHIGORO S. Ginza"
GINZA 777 ADC BUILDING 6F, 7-7-7, Ginza,Chuo-ku, Tokyo 104-0061 Japan
Tel. +81-3-3289-1129 Fax. +81-3-3289-2983
July, 2018
"USHIGORO S. Shinjuku"
HULIC & New SHINJUKU 11F, 3-17-10, Shinjuku, Shinjuku-ku, Tokyo 160-0022 Japan
Tel. +81-3-3341-1129 Fax. +81-3-3341-2983
March, 2022