Brand Site
http://ushigoro-bambina.com/en/
---
Location
---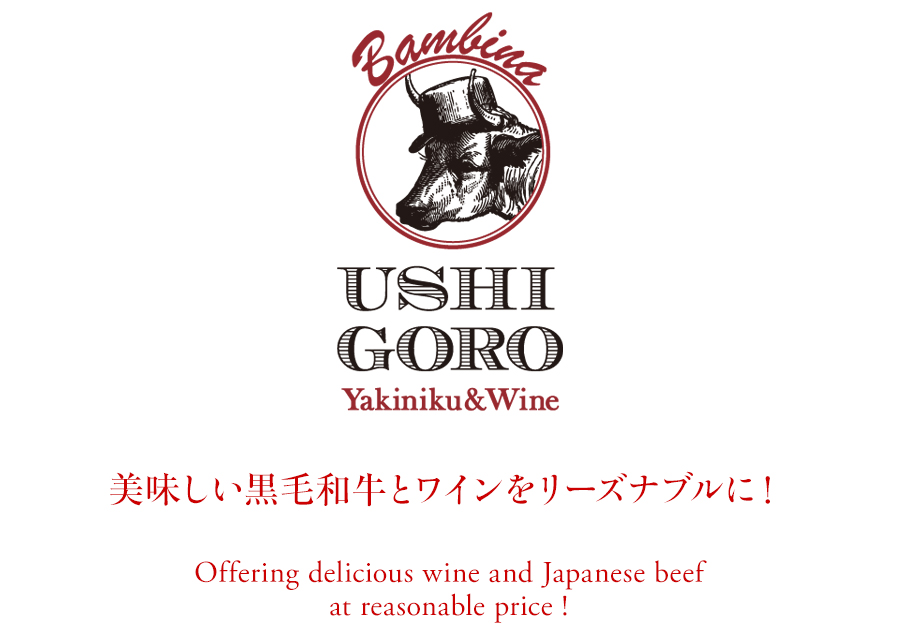 ---
Concept
As well as "Yakiniku USHIGORO",
we only use the rank A5 Japanese black wagyu.
Wine has been carefully selected under the supervision
of the famous wine expert, though it is reasonable,
such as comparable to expensive wine.
Wine goes well with the meat of the highest quality.
We want you to enjoy eating meat and wine together.
On the concept of "Offer the incredibly delicious meals
at reasonable prices!", we promise the excitement
of postprandial overwhelming cost performance.
---
Summary
Store name
Address
Opening of a store
"USHIGORO Bambina Ebisu"
RKF EBISU 1F, 2-1-2, Ebisuminami, Shibuya-ku,
Tokyo 150-0022 Japan
Tel. +81-3-6452-2983 Fax. +81-3-6452-2943
August, 2012
"USHIGORO Bambina Ebisu Hilltop"
Time Zone Hilltop Bld. 2F, 1-18-9, Ebisu Minami, Shibuya-ku
Tokyo 150-0022 Japan
Tel. +81-3-3760-1129 Fax. +81-3-3760-2983
April, 2015
"USHIGORO Bambina Shimbashi"
Misawa Building 1F, 2-15-3, Shimbashi, Minato-ku,
Tokyo 105-0004 Japan
Tel. +81-3-6205-7429 Fax. +81-3-6205-7439
December, 2013
"USHIGORO Bambina Shibuya"
Shibuya Xe building, 16-9, Sakuragaokacho, Shibuya-ku,
Tokyo 150-0031 Japan
Tel. +81-3-3770-4129 Fax. +81-3-3770-4529
June, 2014
"USHIGORO Bambina Ginza"
Nishi-Gobangai building 3F, 5-6-13, Ginza, Chuo-ku,
Tokyo 104-0061 Japan
Tel. +81-3-3573-4129 Fax. +81-3-3573-2983
October, 2016