Brand Site
---
Location
---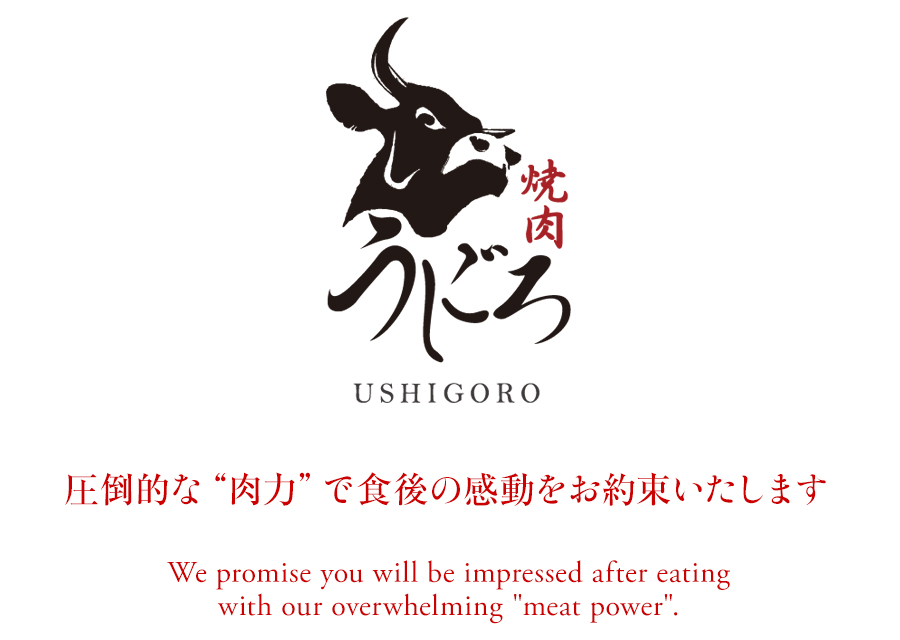 ---
Concept
We have pursued the height of tongue.
Finally, we found the real one.
We offer it having a big confidence.
We only use the best part of the tongue
which we can take only a little from a cattle.
Smooth texture, pleasant crispness.
You can never forget it once you eat
and you can enjoy "Taste of satisfaction".
Of course, other sites of meats also are high quality.
By overwhelming "meat power",
We promise you to be impressed.
---
Summary
Store name
Address
Opening of a store
"Yakiniku USHIGORO"
the head restaurant in Nishiazabu
Barbizon73 1F, 2-24-14, Nishi-Azabu, Minato-ku,
Tokyo 106-0031 Japan
Tel. +81-3-3406-4129 Fax. +81-3-3406-2911
April, 2011
"Yakiniku USHIGORO" in Ginza
KIRARITOGINZA 7F, 1-8-19, Ginza, Chuo-ku,
Tokyo 104-0061 Japan
Tel. +81-3-3538-1129 Fax. +81-3-3538-2983
April, 2014
Renewal opened in October 2021
"Yakiniku USHIGORO" in Ginza Namiki St.
New Ginza 5 Bldg. 7F, 5-4-9, Ginza, Chuo-ku, Tokyo 104-0061 Japan
Tel. +81-3-3572-1129 Fax. +81-3-3572-2983
November, 2018
"Yakiniku USHIGORO" in Yokohama
CRANE YOKOHAMA 5F, 2-15, Tsuruyacho, Kanagawa-ku, Yokohama-shi, Kanagawa 221-0835 Japan
Tel. +81-45–322-4129 Fax. +81-45–322-2983
September, 2020
"Yakiniku USHIGORO" in Omotesando
Urban Terrace Aoyama 2F, 5-50-3, Jingumae, Shibuya-ku, Tokyo 150-0001 Japan
Tel. +81-3-3400-4129 Fax. +81-3-3400-2911
November, 2020
"Yakiniku USHIGORO" in Shinjuku 3 chome
12F HULIC & New SHINJUKU 3-17-10 Shinjuku Shinjuku-ku Tokyo 160-0022 Japan
Tel. +81-3-3358-4129 Fax. +81-3-3358-2983
June, 2021
"Yakiniku USHIGORO" in Ikebukuro
ASLINE Ikebukuro 1-2F, 1-23-3, Higashi Ikebukuro, Toshima-ku, Tokyo 170-0013 Japan
Tel. +81-3-5992-4129 Fax. +81-3-5992-2983
August, 2023